Welcome to Theatre Arts!
SRJC Theatre Arts Department fosters a profound awareness of cultural diversity and we have a deep commitment to individual education. Our focus is educating and training students to be skilled and motivated professionals in theatre. We offer five career certificates, two Majors, and opportunities to perform in numerous main stage and showcase productions. Major productions are staged in two venues; Burbank and the intimate Newman Auditorium.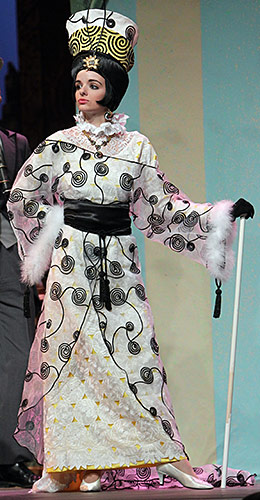 The department provides training by expert instructors with an impressive range of theatrical experience. All faculty and staff members are dedicated to the highest standards of academic and occupational training. We have a long-standing commitment to provide programs of cultural enrichment for the student and the community. We foster a profound awareness of cultural diversity, and a deep commitment to individual education, self-worth, and training. Our season of plays and musicals is selected to realize an academic goal by integrating production skills in a collaborative, experiential environment suitable for all areas of specialization. Our auditions are open to all SRJC students, as well as actors from the community.
Mission Statement
The faculty and staff of SRJC Theatre Arts Department take pride in our ability to work closely with our students, offering a nurturing environment on a beautiful, friendly campus. We are working professionals and educators who share the common goal of providing a complete theatre experience. It is our philosophy that training in the performing arts develops imagination, critical thinking, problem solving, and communication skills that prepare students for all fields. 
Theatre Arts Department Program Learning Outcomes
Upon successful completion of this program students will be able to:
Develop self-awareness and confidence through creative expression
Collaborate and effectively communicate
Demonstrate an understanding of time management, commitment, follow-through, and responsibility to achieve a common goal
Creatively analyze, critique, and interpret works of theatrical art
Identify, summarize, compare and contrast the principal movements in World theatre history and literature
Do one or more of the following*:

Perform a role in a theatrical production
Construct theatrical elements
Manage a theatrical production
Apply fundamentals of theatrical design

Demonstrate an understanding of and empathy for the racial, ethnic, and cultural diversity of U.S. and World theatre
Acknowledge the necessity of currency in theatrical technology
* These objectives also apply to television, film, and other media
Classes, Majors and Certificates
The Theatre Arts Department offers an exciting array of classes, including 3 general education courses (THAR 1, 2, 6), a wide range of skills classes, and several production-related practicums. Students wishing to focus their studies in Theatre Arts can complete an AA in Theatre Arts, complete the Theatre Arts Transfer Major and/or select one or more of the five Certificates of Achievement that we offer.
For information about our Technical Theatre classes and Certificates of Achievement in Stagecraft, Makeup, or Costuming, contact Maryanne Scozzari mscozzari@santarosa.edu.
For information about all other classes, as well as the AA in Theatre Arts and the Certificates of Achievement in Acting or Theatre Management, contact Leslie McCauley lmccauley@santarosa.edu. 
Production Opportunities
During the academic school year Theatre Arts students (as well as non-majors) have the opportunity to participate in five major productions**, plus a dance concert and two showcases.
** Due to the current economic situation, we are temporarily producing only four major productions as an austerity measure.
For performers, auditions are normally held in August for the Fall semester and in January for the Spring semester (see calendar for specific dates and other details). For more information concerning auditions contact the Theatre Arts Department office at (707) 527-4418.
There are many opportunities for students interested in all technical areas of theatre. Students interested in working backstage as members of one of the production crews can register for one of the THAR 25 classes (25, 25.1., 25.2, 25.3, 25.4 or 25.5). The initial orientation meeting for these courses is the 2nd Tuesday of each semester. Qualified design students can gain valuable experience by designing costumes, makeup, scenery, props, lighting, and sound for our main stage productions with the guidance of a professional advisor.
For more information about crewing opportunities, contact Maryanne Scozzari mscozzari@santarosa.edu.
In addition to regular course work, Theatre Arts students regularly participate in the following:
Kennedy Center American College Theatre Festival
During the Fall semester, the Theatre Arts Department normally enters one or both productions in this national program. In the Spring, the department sponsors qualified students of high academic standing to attend the regional festival.
Summer Repertory Theatre (SRT)
The Theatre Arts Department is extremely proud of our sister program, SRT, which provides professional training for participating students each summer. For more information about this exciting educational program, visit the SRT website.
Venues
Mainstage productions are staged in two venues; Burbank Auditorium, which houses a 600-seat proscenium theatre, and the intimate Newman Auditorium, with seating for 190.
Theatre Training at SRJC is Affordable
Enrollment fees for SRJC are still among the lowest in California and the nation. Financial aid is available for qualified theatre students in the form of scholarships, student employment, and work-study. Contact SRJC's Financial Aid Office in Plover Hall for more information. Call (707) 527-4471 to schedule your appointment.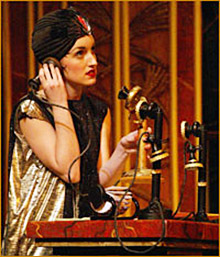 Theatre Arts Department
Santa Rosa Junior College
1501 Mendocino Avenue
Santa Rosa, CA 95401
Phone: (707) 527-4418
Fax: (707) 524-1689
Leslie McCauley, M.F.A.
Department Chair/Artistic Director
Theatre Box Office (707) 527-4307
Box Office Hours: 12:00pm to 4:00pm
Wednesday, Thursday, Friday in Plover Hall.
Also open one hour before performances in the
Maria Carrillo High School Theatre or Newman Lobbies