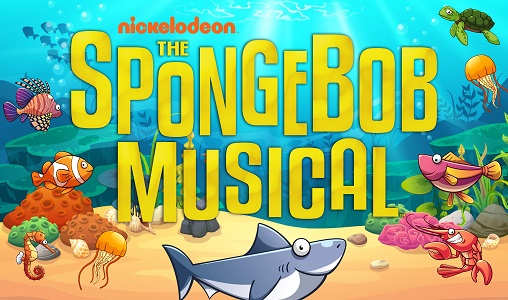 Based on the series by Stephen HIllenburg, book by Kyle Jarrow, musical production conceived by Tina Landau

Directed by Reed Martin
Music Direction by Nate Riebli
Vocal Director Mark Kratz
Choreography by Alyce Finwall
About the Auditions
Preliminary auditions will consist of performing a short contemporary monologue, as well as a short vocal audition (see Vocal Audition Requirements below). If you do not have a monologue prepared,
please read from one of the "Optional Monologues" listed at the very bottom of the General Audition Information page. These include a monologue in Spanish.
Callbacks will consist of a dance/movement audition (see Dance Audition Requirements below), a vocal audition in which actors will sing specific songs from the show with limited preparation time, and reading from some scenes.
Show Description
Inspired from the Nickelodeon animated series, the comedy has 15 featured roles, numerous fun ensemble roles and lots of hip hop, tap, acro, skate boarding, roller-skating and aerial opportunities for the dance corps!
Roles and Casting Opportunities
Cast Details:  Approx. 30 actors.  
We are looking for a cast of all ages, shapes, sizes, races, and gender identities.  Actors of any gender may be cast in all roles.
Spongebob Character List and Vocal Ranges
SPECIAL SKILLS: Although these skills are NOT REQUIRED, we are seeking performers with the following special skills - Ukulele, Skate Boarding/Roller Blading, Aerial/Silks.
Production Schedule
Cast Orientation:  Thursday, August 25, 2022
Rehearsals Begin:  Tuesday, August 30, 2022.  We will rehearse Tuesday-Friday nights and Sunday evenings, with two Saturday night rehearsals close to opening night.
Performances:  13 performances over three weekends, Nov 18-Dec 4, 2022.
What to Prepare
Please prepare a short monologue, comic or dramatic (60-90 seconds) as well as a short vocal audition.
What's a monologue? What if I don't have a prepared monologue?
Scroll to the bottom of the main audition page to find the answers to these good questions. If you have never auditioned for us before, please use the monologues at the bottom of that page.
Vocal Audition Requirements
Dance Audition Requirements
Dance Audition Requirements - Callbacks Only
Want to audition for THE SPONGEBOB MUSICAL but your schedule conflicts with the auditions? Or if you have a show-specific question…
Only students with a legitimate reason for not attending auditions in-person will be allowed to submit a recorded audition. These will be decided on a case-by-case basis. For SpongeBob, contact director Reed Martin rmartin@santarosa.edu using the subject line "Special Audition Request" or "Audition Question." Include the reason for your request and your contact information.
How to submit a Pre-Recorded Audition