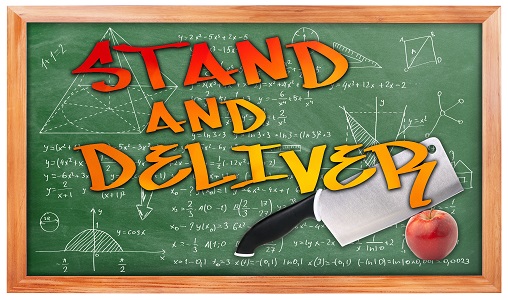 Based on the screenplay by Ramon Menendez and Tom Musca.
Adapted for the stage by Robert Bella
Directed by Elizabeth Dale
About the Auditions
Preliminary auditions will consist of performing a short (1-2 min) prepared (memorized) monologue.
Callbacks will consist of reading from the script and possible improvisation work.
Show Description
Based on an inspirational true story and the Academy-Award nominated film, Stand and Deliver follows new teacher Jaime Escalante as he transforms the lives of students at an East LA high school.
Roles and Casting Opportunities
Guest artist: Please note the role of Jaime Escalante has been pre-cast with a Guest Artist.
Cast size:  There are 18 roles in the show:
Jaime Escalante (pre-cast):  One of a kind, early 50s
Principal Molina:  Tough guy with a heart, 40s-50s
Raquel Ortega:  A self-assured woman in her 40s
Javier Perales:  A slim, middle-class boy
Tito Guitano:  A new-wave math student/musician
Claudia Camejo:  A moody and sexy fashion plate
Francisco "Pancho" Garcia:  A car freak
Lupe Escobar:  An outspoken flirt
Ana Delgado:  A flower ready to bloom
Rafaela Fuentes:  A recent immigrant from Guatemala
Angel Guerra:  A member of the Maravilla Gang
Chuco:  The macho leader of the Maravilla Gang
Armando:  The janitor, late 20s
Héctor Delgado:  Ana's father, 45
Dr. Ramírez:  A yuppy Latino Educational Testing Service official, 30s
Dr. Pearson:  A black Educational Testing Service official, 30s
Also:  Secretary, Security Guards, Police Officer, Various Students (The Maravilla Gang, Tough Boy, Pregnant Girl, etc.)
Production Schedule
We will rehearse Tuesday-Friday nights and Sunday evenings, with two Saturday night rehearsals close to opening night.
Rehearsals start: Tuesday, August 23, 2022.
Performances: September 30-October 9, 2022. Nine performances.
What to Prepare
Preliminary auditions will consist of performing a short (1-2 min) prepared (memorized) monologue.
Also, be prepared to talk briefly with the director and/or the assistant director after presenting their material.
What's a monologue? What if I don't have a prepared monologue?
Scroll to the bottom of the main audition page to find the answers to these good questions. If you have never auditioned for us before, please use the monologues at the bottom of that page. These include a monologue in Spanish.
Stand and Deliver is based on the academy award-nominated film by the same name. Although copies of the play may be available online, if you cannot access a copy of the play to read before auditions, watching the film is a great option.
More Information
The script contains strong language and some adult content. It is also a period piece, and as with all period pieces, it contains some dated references and ways of behaving and speaking.
We are hiring a cultural consultant to help ensure cultural accuracy and authenticity.
Want to audition for STAND AND DELIVER but your schedule conflicts with the auditions? Or if you have a show-specific question…
Only students with a legitimate reason for not attending auditions in-person will be allowed to submit a recorded audition. These will be decided on a case-by-case basis. For Stand and Deliver, contact director Elizabeth Dale at edale@santarosa.edu using the subject line "Special Audition Request" or "Audition Question." Include the reason for your request and your contact information.
How to submit a Pre-Recorded Audition