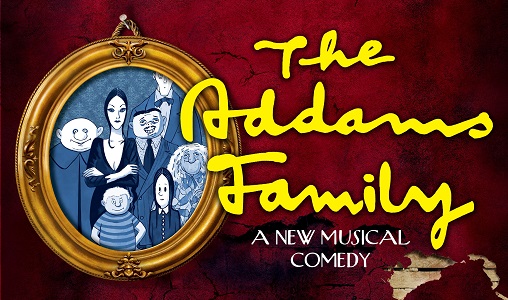 Based on characters created by Charles Addams. Book by Marshall Brickman and Rick Elice. Music and Lyrics by Andrew Lippa.

Directed by Laura Downing-Lee
Music and Vocal Direction by Nate Riebli
Choreography by Alyce Finwall
About the Auditions
Preliminary auditions will consist of performing a short contemporary monologue, as well as a short vocal audition (see Vocal Audition Requirements below). If you do not have a monologue prepared,
please read from one of the "Optional Monologues" listed at the very bottom of the General Audition Information page. These include a monologue in Spanish.
Callbacks will consist of a dance/movement audition (see Dance Audition Requirements below), a vocal callback audition in which actors will sing specific songs from the show with limited preparation time, and an acting audition reading selected scenes from the show.
Show Description
This Goth-comic-retro-revival musical is filled with the same wonderfully macabre family who inspired the iconic TV show of the 1960s, as well as several popular films.  Wednesday Addams (the ultimate princess of darkness) has fallen in love with a "normal" young man and wants to invite him and his parents to meet her family…and that's when her father's nightmare begins!
Roles and Casting Opportunities
Cast Size:  Approximately 24 actors:
10 principal roles (including one male child's role; age 10-13)
Approx. 14 ensemble roles (may include one-two children's roles; must be age 8 or older to audition)
We are looking for a cast of all ages, shapes, sizes, races, and gender identities. Actors of any gender may be cast in all roles.
Addams Family Character List, Vocal Audition Requirements and Audition Song Suggestions
SPECIAL SKILLS: Although these skills are NOT REQUIRED, we are seeking performers with the following special skills - Ukulele, Puppetry, Magic, Juggling and other unique performance skills.
Production Schedule
Cast Orientation:  Thursday, January 26, 2023
Rehearsals Begin:  Tuesday, January 31, 2023.  We will rehearse Tuesday-Friday nights and Sunday evenings, with two Saturday night rehearsals close to opening night.
Performances:  13 performances over three weekends, April 21-May 7, 2023, to be performed in Burbank Auditorium's Main Theatre.
What to Prepare
Please prepare two pieces for this audition, a short monologue and short song:
Monologue – A comic or dramatic monologue (60-90 seconds), preferably from a play or musical (other than this one).
Song – click the link to the Vocal Audition Requirements in the next section below.
What's a monologue? What if I don't have a prepared monologue?
Scroll to the bottom of the main audition page to find the answers to these good questions. If you have never auditioned for us before, please use the monologues at the bottom of that page.
Vocal Audition Requirements
Dance Audition Requirements
Dance Audition Requirements - Callbacks Only
Audition Conflicts or Questions
Want to audition for THE ADDAMS FAMILY but your schedule conflicts with the auditions? Or, do you have a show-specific question?
Only actors with a legitimate reason for not attending auditions in-person will be allowed to submit a recorded audition. These will be decided on a case-by-case basis, so you need to contact the director first.
For Addams Family conflicts or questions, contact director Laura Downing Lee ldowning@santarosa.edu using the subject line "Special Audition Request" or "Audition Question." Please include your contact information. If requesting a recorded audition, please also state the reason for your request.
How to submit a Pre-Recorded Audition