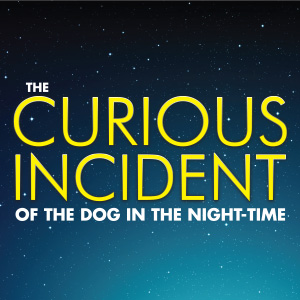 Based on the novel by Mark Haddon, adapted by Simon Stephens
Directed by Laura Downing-Lee
About the Auditions
Preliminary auditions will consist of performing a short monologue (see "WHAT TO PREPARE" below for details). 
Callbacks will consist of reading from the script and possible dialect work.
Show Description
15-year-old Christopher has an extraordinary brain: He is exceptional at mathematics but ill-equipped to interpret everyday life. He has never ventured alone beyond the end of the road, he detests being touched, and he distrusts strangers. Now it is 7 minutes after midnight, and Christopher stands beside his neighbor's dead dog, Wellington, who has been speared with a garden fork.  Finding himself under suspicion, Christopher is determined to solve the mystery of who murdered Wellington, and he carefully records each fact of the crime. But his detective work, forbidden by his father, takes him on a thrilling journey that upturns his world.
Roles and Casting Opportunities
Cast size:  There are 39 speaking roles in the show, to be performed by 10-12 actors.  Originally written for a diverse cast of five male and five female actors, teen and adult actors of all races, ethnicities and gender identities will be considered for the roles in this production.  Actors who identify as neurodiverse are particularly encouraged to audition for the role of Christopher.
CASTING UPDATE
During our December 2021 auditions, the role of Christopher was cast, as well as three ensemble members.  All other roles below are available, as well as understudies.
Four core characters (these actors will not play other roles):
Christopher Boone - The 15-year-old protagonist.  Identified as neurodiverse, he has an extraordinary skill with mathematics, but significantly struggles with social interactions.
Siobhan - Christopher's para-professional and mentor at school
Ed Boone - Christopher's father, a boiler engineer
Judy Boone - Christopher's mother
Six - eight versatile and talented ensemble members:
Each of the ensemble members will play multiple roles, including at least one featured speaking role.  They will also assist in creating the many locations and elements of the story, remaining on stage for the majority of the production.
Production Schedule
Rehearsals start:  Tuesday, January 25, 2022.  We will rehearse Tuesday-Friday nights and Sunday evenings, with one Saturday night rehearsal close to opening night.
Performances: March 4-13, 2022
Creating Theatre During Covid
SRJC Theatre Arts is committed to creating quality educational theatre while maintaining a safe and healthy learning environment at all times.  Recognizing that we are still navigating a pandemic, we must remain flexible and adapt our processes when needed, with the guidance of college and county officials.
Initial rehearsals (Jan. 25-30) for this production may be in-person or online, depending on the nature of scheduled activities and/or public health factors.  At this time, rehearsals after Jan. 31 are scheduled to be in-person with all participants in masks.  Additional health protocols may be added as needed.  Final rehearsals and performances will be unmasked and performed before a masked and vaccinated public audience; audience capacity will be determined based on county and college criteria at that time.
What to Prepare
Please prepare a short contemporary monologue from a play (60-90 sec.); comic, serio-comic, or dramatic pieces are all welcome.
What's a monologue? What if I don't have a prepared monologue?
Scroll to the bottom of the main audition page to find the answers to these good questions. If you have never auditioned for us before, please use the monologues at the bottom of that page.
**The Curious Incident of the Dog in the Night-time is based on the award-winning novel by the same name.  Although copies of the play may be available online, if you cannot access a copy of the play to read before auditions, reading the novel is a great option.**
More Information
The script contains strong language and adult content. We have hired a dialect coach to help the cast with the dialects for the show; most cast members will be speaking a contemporary middle class British dialect. 
Want to audition for THE CURIOUS INCIDENT OF THE DOG IN THE NIGHT-TIME but your schedule conflicts with the audition schedule Or you have a show-specific question…
Please contact the director Laura Downing-Lee ldowning@santarosa.edu using the subject line "Special Audition Request" or "Audition Question." Include the reason for your request, your contact information, and whether or not you are auditioning for both SRJC fall shows.