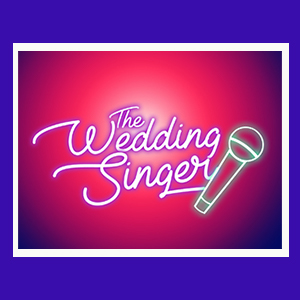 Music by Matthew Sklar. Book by Chad Beguelin and Tim Herlihy.
Lyrics by Chad Beguelin. Based on the New Line Cinema film written by Tim Herilhy.

Directed by Reed Martin
Music Direction by Janis Dunson-Wilson
Vocal Director Mark Kratz
Choreography by Alyce Finwall
About the Auditions
Preliminary auditions will consist of performing a short contemporary monologue as well as a short vocal audition (see Vocal Audition Requirements below).
Callbacks will consist of a dance/movement audition (see Dance Audition Requirements below), a vocal audition in which actors will sing specific songs from the show with limited preparation time, and reading from some scenes.
(Actors may either submit a pre-recording of their monologue and vocal audition or perform it live online at the Friday night Zoom auditions.) 
Actors that were in the cast of The Wedding Singer Spring 2020 do not need to attend preliminary auditions and can go straight to callbacks! Complete the audition registration form and mention that you were in the cast in your audition request email.
Show Description
Inspired from the film, the romantic comedy has 8 major roles, numerous featured roles, and lots of dance rock numbers for the ensemble!
Roles and Casting Opportunities
Cast Details:  Approx. 30 actors.  
We are looking for a cast of all ages, shapes, sizes, races, and gender identities.  Two female roles (Holly and Linda) are more heavy metal while others are more pop rock or traditional Broadway.  The lead character Robbie (played by Adam Sandler in the film) ideally plays guitar-- but that is not a necessity. 
Some featured roles are written specifically for African American Actors (impersonators of Tina Turner and Mr. T)
Here is a link to information about the main and featured characters in this show, including each character's vocal range: https://stageagent.com/shows/musical/1670/the-wedding-singer/characters
Production Schedule
Rehearsals will begin Thursday, January 27, 2022.  We will rehearse Tuesday-Friday nights and Sunday evenings, with two Saturday night rehearsals close to opening night.
Performances:  13 performances over three weekends, April 22-May 8, 2022.
What to Prepare
Please prepare a short monologue, comic or dramatic (60-90 seconds) as well as a short vocal audition.
What's a monologue? What if I don't have a prepared monologue?
Scroll to the bottom of the main audition page to find the answers to these good questions. If you have never auditioned for us before, please use the monologues at the bottom of that page.
Vocal Audition Requirements
Vocal Audition Requirements - Preliminary and Callbacks
Dance Audition Requirements



Dance Audition Requirements PDF - Callbacks Only
Want to audition for THE WEDDING SINGER but your schedule conflicts with the callbacks on Saturday, Dec. 4 and/or Sunday, Dec. 5 (1:00-5:00)? Or you have a show-specific question…
Please contact the director Reed Martin rmartin@santarosa.edu using the subject line "Special Audition Request" or "Audition Question." Include the reason for your request, your contact information, and whether or not you are auditioning for both SRJC fall shows.