In the past three years, Theatre Arts has faced many challenges: cancellations due to fires, performing in swing spaces, move-in delays to the remodeled Burbank, and now Covid-19 closures. Thank you for standing by and with our students. We are still here! The show will go on! 
We are adapting to our remote world and we are thrilled to welcome you back with inventive online performances for the fall and spring. These remote productions are challenging our staff, student designers and actors to explore bold, new ways of creating our live art form. Some of the shows will be performed completely live online, some will also include prerecorded footage. But rest assured that all of our shows will feature the outstanding production values and fine acting that you have come to expect from SRJC Theatre Arts.  
In these astonishing times, the faculty, staff and students raise our voices to join the swelling chorus of solidarity with those crying out their truth and with all those sounding the clarion call that Black Lives Matter and major social change is needed.  
With heartfelt appreciation for your support, 
Leslie McCauley 
Chair/Artistic Director 
ANNOUNCING OUR 2020-2021 THEATRE ARTS SEASON
Please check the CALENDAR and BUY TICKETS ONLINE for curtain times.
SRJC Faculty and Staff are entitled to one (1) $5.00 ticket for all productions. Email ID to the Box Office when purchasing tickets. SRJCBoxoffice@santarosa.edu
CUB CARD holders will be eligible for one free ticket for spring 2021 productions. Please email the Box Office to request.
Purchasing Tickets for the 2020-2021 Season
---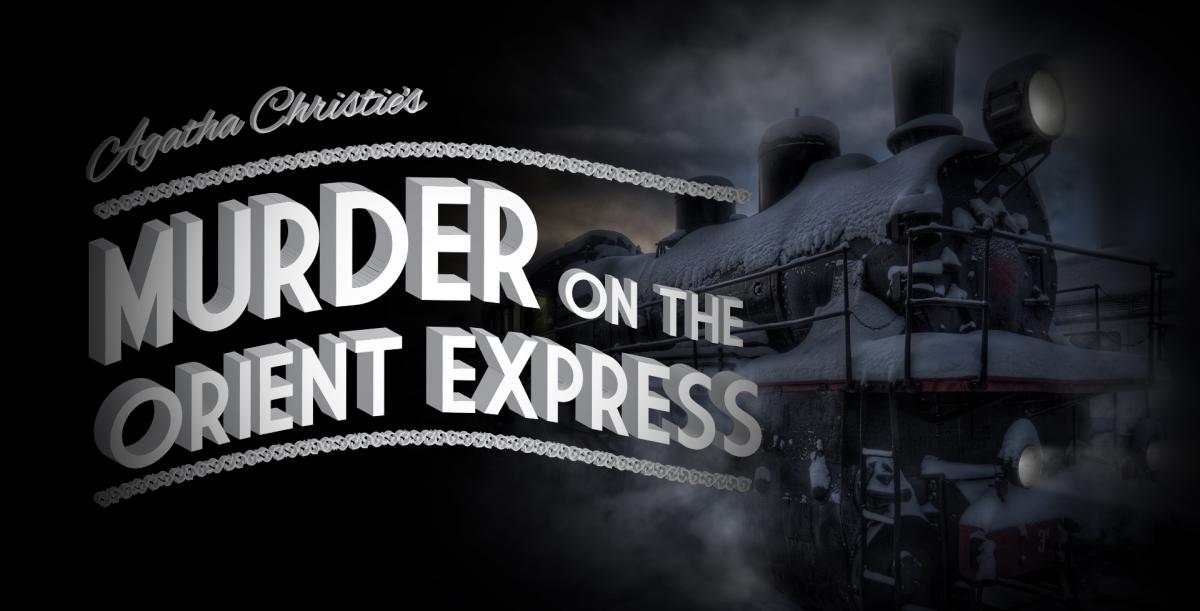 AGATHA CHRISTIE'S
MURDER ON THE ORIENT EXPRESS
Streaming Live on You Tube
Adapted for the stage by Ken Ludwig 
Directed by Laura Downing-Lee
October 16, 17, 23, 24 at 7:30pm
All aboard!  With a burst of steam, the luxurious Orient Express departs Istanbul for Paris filled with an eccentric ensemble of international travelers ready to be pampered.  Yet, by morning, the train is trapped in a snowdrift, a passenger is found brutally stabbed to death, and the brilliant detective Hercule Poirot must employ all his "little grey cells" to solve the crime.  Adapted by one of today's foremost comedic playwrights, this sparkling retelling of Christie's world-famous mystery is sure to delight.  Staged as a 1934 radio play and broadcast live online, audiences are in for a suspenseful, thrilling ride!
Please join us online 20 minutes before curtain for an entertaining preshow featuring background on Agatha Christie and the play and "How did they do that?!" footage.
 "Agatha Christie's Murder on the Orient Express" is presented by arrangement with Concord Theatricals on behalf of Samuel French, Inc. www.concordtheatricals.com

An entertaining and enlightening introduction to the play and production, compiled by the cast.
---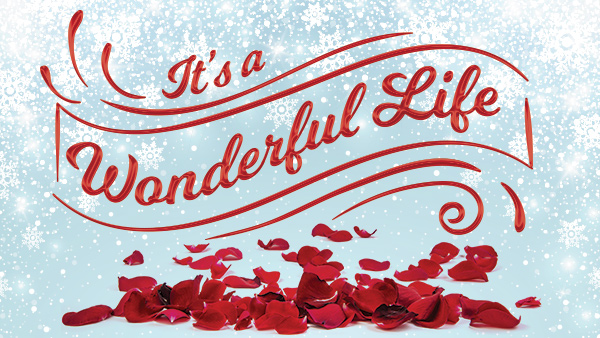 IT'S A WONDERFUL LIFE
A Musical, Filmed & Streaming Live on You Tube
Composed and Music Direction by Janis Dunson Wilson
Adapted for the Stage and Directed by John Shillington
Choreographed by Alyce Finwall
Vocal Direction by Tina Lloyd Meals
November 27, 28, December 4, 5 at 7:30pm
Inspired by the beloved 1946 Frank Capra film, this home-grown musical brings the heartwarming holiday tale to life in a unique online theatrical production.  Despite years of hard work and self-sacrifice, George Bailey is faced with financial ruin.  That fateful night, as he stands on a bridge contemplating suicide, he wishes he had never been born.  When Clarence (guardian angel in training) overhears George's bitter cry, he grants the wish, and opens his eyes to all that would have been lost…both large and small…in a life without him.  Featuring an original score by the award-winning local artist Janis Dunson Wilson, this charming show is a ray of hope in our tumultuous times.

---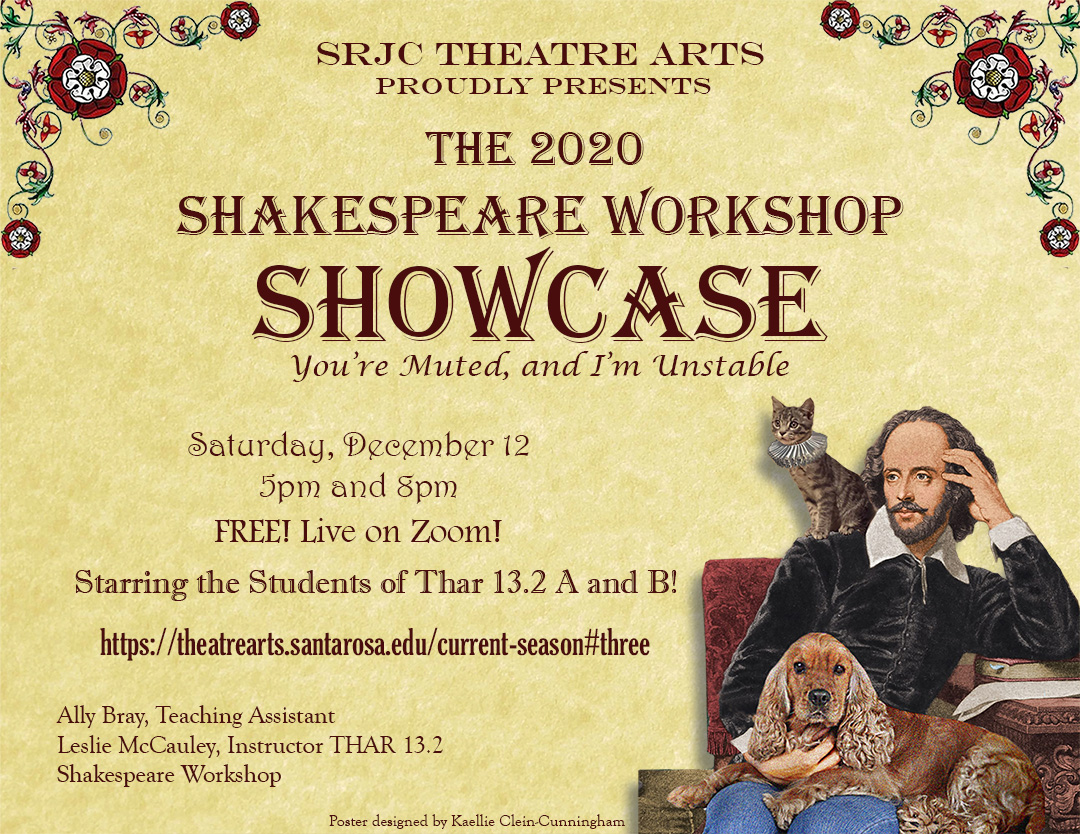 SHAKESPEARE WORKSHOP SHOWCASE
Free & Streaming Live via Webinar
Featuring
Zack Brauner, Kaellie Clein-Cunningham, Chris Cota, Riley Craig, Lukas De Bel, Claire Grodrian, Morgan Hamilton-Lee,
Jack Ramses, Adrianna Rasmussen, Kitty Rutherford, Spencer Scruggs, Chris Shayota, Lorelei Voegels, Jasmine Williams
Saturday, December 12, 2020 - two performances:
Please join us for a FREE (links below) celebration of The Bard and the work of our advanced acting students! The show will consist of a collection of scenes and monologues from Shakespeare's plays, plus a few guest appearances by our feline and canine company members.
Estimated running time: one hour
---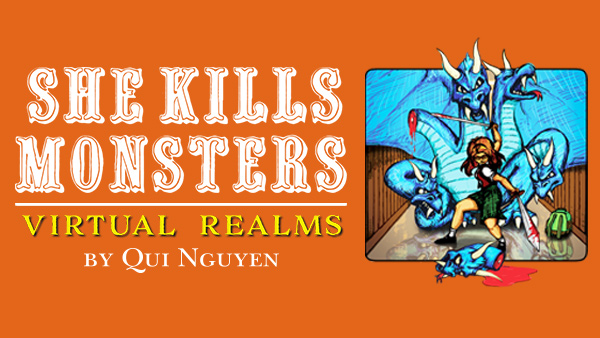 SHE KILLS MONSTERS: VIRTUAL REALMS
Streaming Live on You Tube
by Qui Nguyen
Directed by Leslie McCauley
March 5, 6, 12, 13 at 7:30pm
March 14 at 2pm
Dungeons and Dragons! Having lost her younger sister in a tragic accident, Agnes Evans begins the painful task of packing Tilly's room. She realizes how little she knew her sister when she discovers a scenario Tilly wrote for the role-playing game Dungeons and Dragons. With the help of a "dungeon master," Agnes embarks on a quest to learn more about the sister she's lost and soon finds herself in a world where fantasy and reality collide. Inhabited by nasty ogres, homicidal fairies, and slacker monsters, this imaginative comedy is both a wild adventure and a touching exploration of loss and acceptance.
 "She Kills Monsters" is presented by arrangement with Concord Theatricals on behalf of Samuel French, Inc. www.concordtheatricals.com
---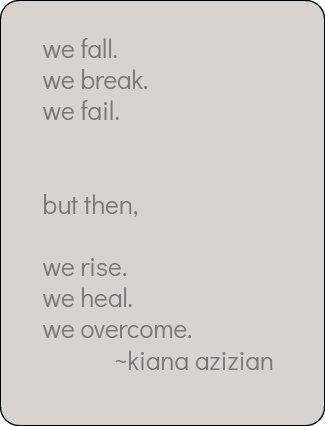 overcome/a devised play
a student created performance
Streaming Live on You Tube*
Directed by Reed Martin
April 23, 24, 30, May 1 at 7:30pm
May 2 at 2pm
Please join us for this exciting new theatrical work created by our students. This devised play will combine acting, singing, dancing, poetry and stand-up . We're giving voice to our community experience of the past three challenging years! Instructor Reed Martin guides the collaborative process, having been involved in the development of new student works at UC Berkeley, UC San Diego, Napa Valley College, and San Joaquin Delta College.
*If you require closed captioning, please contact the Box Office for accommodation
SRJCBoxOffice@santarosa.edu
Disclaimer: This production contains potentially triggering content, including themes of eating disorders, self-harm and suicide, and may not be suitable for all audiences.
---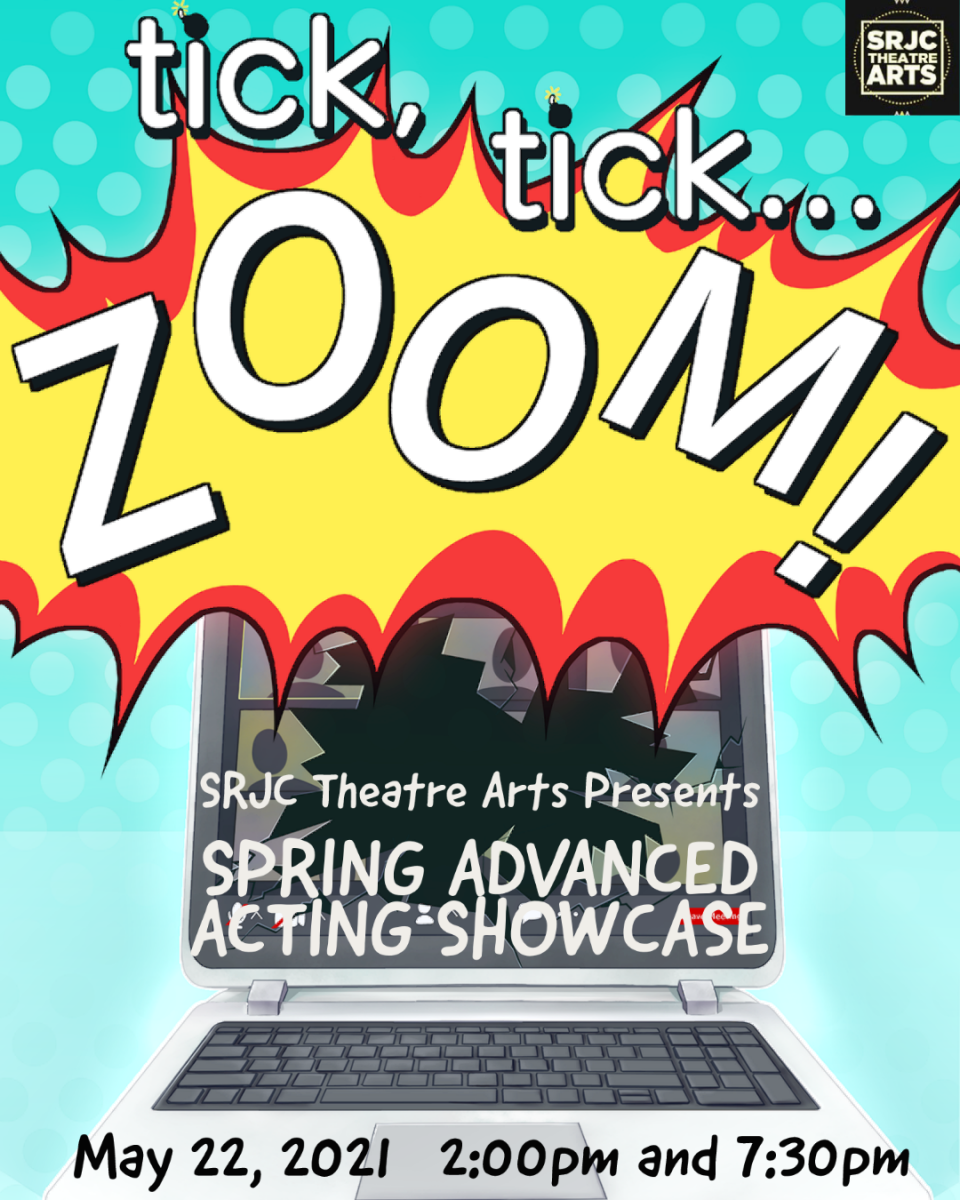 SPRING ADVANCED ACTING SHOWCASE
Via Zoom Webinar
FREE!  Just log on and enjoy! Links below
Starring
The Talented Students of THAR 13.1 Performance Workshop: Periods, Styles, and Skills
Zackary Brauner, Riley Craig, Chris Cota, Lindsey Hiner, Kitty Rutherford, Chris Shayota, Spencer Scruggs, Lorelei Voegels
Featuring Selections From:
The Poetic Wit of Molière (17th Cen. French Playwright)
Theatrical Readings from Our Favorite Books
The Comic Genius of Neil Simon (20th Cen. Jewish American Playwright)
Saturday, May 22, 2021
2:00pm - https://santarosa-edu.zoom.us/webinar/register/WN_8YsbnBipTnatgFiTZUaWAA
7:30 pm - https://santarosa-edu.zoom.us/webinar/register/WN_DlnApyueQMyKwDCxEZf3CA
Show link opens 15 minutes before showtime.
Estimated running time: one hour
Recommended for Audiences 13 and up.  Small amount of strong language and adult content.